Cargo transportation:
Cargo transportation from anywhere in the world is a complex and painstaking work that requires special skills, knowledge and capabilities. The international transport company "Express Logistics" possesses all the listed skills, thanks to which it guarantees fruitful cooperation and reliable transportation of any cargo. Our employees include individuals, small businesses and entire corporations. Employees of the company for many years confirm a high level of professionalism, demonstrating a lightning-fast solution to any situations.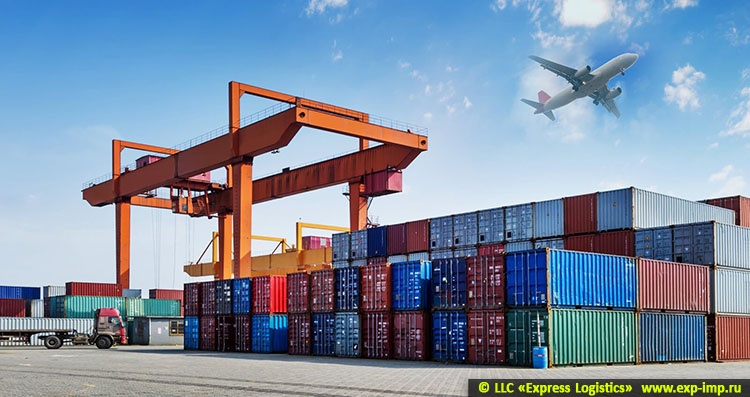 Types of freight
"Express Logistics" is a harmonious combination of quality, reliability, speed and availability. We carry out all possible types of freight traffic, thanks to which we can select the optimal transport that can meet the requirements and personal preferences of each client. Depending on the type of goods (size, quantity and other technical characteristics or features) you can choose one or several of the following types of vehicle:
Automobile transportation. The fleet of the company is represented by modern and roomy trucks that can accommodate both cargo containers and cargo in its pure form. Each car regularly undergoes a technical inspection, which guarantees the absence of any breakdowns or malfunctions throughout the trip.
Shipping. We provide a profitable opportunity to deliver the goods using maritime communications. Depending on the characteristics of your product, an optimal container is selected that is capable of ensuring its integrity and preserving the commercial appearance. This is especially true for perishable products that need sufficient air circulation and a certain temperature regime. In the case of transportation of explosive or chemical substances, additional safety measures are taken to prevent the occurrence of fire on the ship. One of the main advantages of sea transportation is the ability to simultaneously deliver large quantities of goods. This is especially true for enterprises engaged in the implementation of their activities on the domestic market in large volumes.
Air transportation. This is the fastest and most popular way to transport goods. With the help of cargo planes will be removed as quickly as possible to deliver the goods from anywhere in the world. We also guarantee the use of special containers capable of ensuring safe transport. Each of them is fixed by powerful cables that prevent shaking during the flight. Due to this, the client receives a holistic product that has the original product appearance.
Regardless of the chosen type of transportation, we are independently engaged in the preparation of the necessary documentation package, which is required when passing through customs inspection. Our international transport company is well aware of the features of the customs of any country, so it prepares a complete set of documents in advance, preventing the occurrence of time delays, fines and other troubles.
What cargo is being transported?
The international transport company "Express Logistics" carries out freight transportation of any goods. Our equipment, equipment, communications and responsible approach provide an opportunity to deliver the cargo, regardless of its size, purpose, properties and other characteristics. Turning to us, you can transport:
Complete loads. As a rule, they are designed for one to learn and occupy the entire free space of the vehicle (car, ship or plane). In most cases, this proposal is relevant for large enterprises that buy goods abroad and sell them on the domestic market.
Groupage cargo. These are small-sized goods that are sent in the same direction on a single vehicle, but intended for different buyers. This type of transportation can significantly save money.
Oversized cargo. This variety is applied to goods whose weight and size does not correspond to the dimensions allowed during transportation and the rules established by the rules of the road.
Dangerous goods. These are any substances or objects that could harm the health or life of people, as well as the environment. This could be petroleum, gasoline, explosive chemicals, etc. For such goods provides additional equipment and enhanced security measures for transportation.
Perishable goods. In this case, special containers are used that maintain the necessary microclimate inside throughout the whole transportation (temperature, humidity, air circulation). This is especially important for food, as it is necessary to ensure the preservation of taste.
Excise cargo. Some products (alcohol, cigars, etc.) need a hotel approach and additional customs clearance. We know the specifics of all services and countries, so we guarantee a quick and legal crossing of the border with the required volume of cargo delivered.