Russia has stable and mutually beneficial economic relations with the countries of the African continent. Food products (primarily fruits and vegetables, seafood), leather and textile products, perfume and cosmetic products are supplied to Russia from Africa. Russia exports to the "black continent" metals, industrial equipment, grain, chemical products.
Features of cargo transportation from Africa
For companies engaged in foreign economic activity, stable supply of goods is important. Specialists of the logistics company "Express logistics" for many years engaged in the organization of cargo deliveries to Africa and from the African continent. We will provide the most prompt and safe delivery of cargo from / to the following countries:
Egypt, Tunisia, Algeria, South Africa, Congo and other countries.

For the organization of cargo transportation is used mainly sea transport, but urgent small loads can be sent by air transport.
Logistics company "Express logistics" develop delivery routes depending on the direction – in which part of Africa you need to send the goods:
North, South, East, West.
It is very important to entrust the delivery of goods only to experienced carriers, as there is still piracy in some regions of Africa (Somalia region). Our long-term relationships with trusted partners guarantee the safety of your goods on the way "door to door".
Types of cargo transportation to Africa
Logistics company "Express logistics" provides the following services:
vehicles;
warehouse;
customs.
The most affordable type of cargo transportation to African countries is considered to be sea delivery. We offer multimodal container transportation: in Russia cargo is transported by road to the major sea ports of St. Petersburg, the Baltic States, placed on ships that are sent to Africa.
The complexity of sea cargo transportation to the countries of the "black continent" is that African ports are extremely loaded, and the equipment in them is significantly worn out, which delays the loading and unloading times. Our company guarantees the safety of cargo on the road, compliance with the terms of delivery. Container delivery of goods to Africa by sea takes 25-30 days, air-7-10 days.
Specialists of the logistics company will select the optimal type of cargo transportation for the customer. We provide responsible storage of cargo, provide customs services:
calculation of customs duties;
registration of customs declarations;
passage of customs control.
Logistics company services
The company "Express logistics" offers international cargo transportation to African countries "turnkey". Along with logistics operations and selection of the optimal route, the service includes:
selection of a supplier;
contract conclusion;
labeling and re-labeling (repacking) of goods in Russia;
delivery of cargo to the customer "to the door".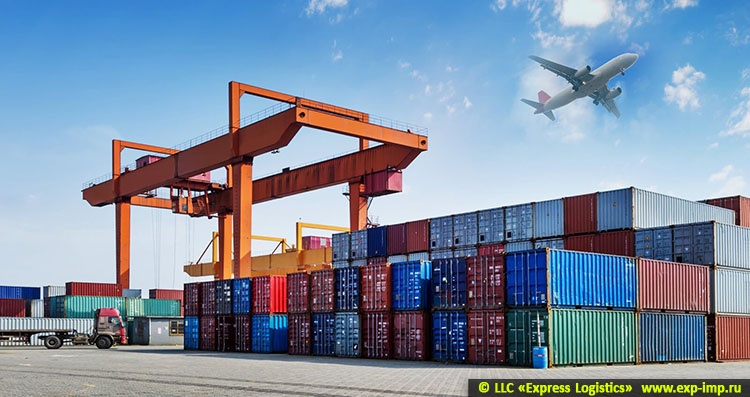 We provide the customer with the ability to track all stages of cargo transportation to / from any country of the African continent. At the same time in the market of services our company offers the best prices.