An important aspect of the purchase of foreign products for the purpose of subsequent sales or personal use is to find a competent and professional company specializing in logistics services. The correct choice of the organization that carries out import transportation guarantees the timely delivery of cargo in the integrity, safety and overall low cost of transport operations. What then will allow at the start of sales to put lower price tags and attract customers, while not understating the quality of goods sold.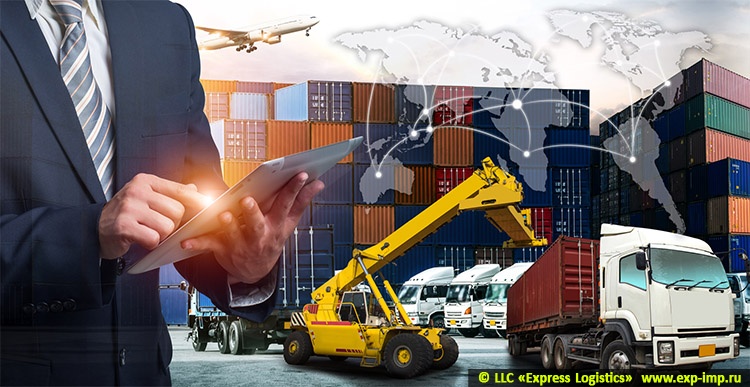 If you do not want to be mistaken, giving preference to inexperienced companies with poor quality service, then choose a reliable and proven option for years - the company "Express Logistics", which is a specialist in the field of import freight (as well as export). Our services in this area meet all domestic and international standards - when turning to us, you can count on fast and inexpensive transportation, which does not entail possible damage to the cargo.
Import freight: what is included in the range of services?
Transportations of foreign goods to the Russian Federation, performed by "Express Logistics", imply a whole series of works of various directions designed to reduce the need for the customer to intervene in the transportation process itself:
coordination of conditions with the foreign consignor, on which the transportation of imported goods will be carried out - the date, place of loading of products, etc .;
vehicle selection - we select the most optimal transport option capable of delivering the desired volume of cargo in the shortest possible time. If we are talking about transportation through the ocean, then we combine several types of vehicles, organizing import sea freight (or air), turning into road;
route planning - it is formed in such a way as to ensure the earliest arrival of goods to the customer. In the case of road transport, we take into account the presence of obstacles on the way (sections with poor road surface, low bridges, etc.) and choose a route where the car will pass without complications;
customs clearance of imported goods (including the calculation and payment of payments at customs) - the quality of these works depends on whether the goods pass through the border and whether the transportation will not be suspended for an indefinite period until the necessary documents are received. Customs clearance of imported goods is a procedure that is better to be entrusted by a professional, thereby avoiding time and financial costs;
product delivery - is performed, like other "Express Logistics" services, exclusively by the company. We do not use the help of intermediaries.
In addition to these activities from the main complex, we provide additional services that import freight services (including export) are accompanied by:
insurance. It is not a mandatory procedure and is intended to provide additional guarantees for the safety of products. You can insure against any risks and regardless of the situation (theft, car accident, etc.) - the losses are compensated according to the insurance contract. The insurance of import cargoes offered by the company is distinguished by attractive conditions that exceed the offers of competitors;
warehouse Logistics. "Express Logistics" has a well-developed warehouse infrastructure - warehouses are equipped to modern standards and stand out in a convenient location. They are serviced by qualified workers. What together allows us to provide excellent conditions for the temporary or permanent storage of customers goods;
conducting appraisal examinations - we check import and export goods for consistency of quality and quantity. This procedure is carried out prior to transportation at the point of departure or in warehouses.
Despite such a large list of services with high-quality execution, imported goods are delivered by "Express Logistics" at a reasonable price.
Types of transport
The company has extensive experience in organizing the transportation of import-export goods by an arbitrary variety of vehicles:
Trucks - the most common form of transport used for transportation over short distances. To overcome long-haul routes, it is better not to choose imported auto trucking and give preference to other options;
railways - trains allow you to fit large batches with a low price of delivery. Always come on schedule, which is a guarantee of meeting deadlines. However, the "accuracy" of sending / arriving is a weak point of the railway. In the case when urgent transportation of export-import goods is required - trains will not work;
sea routes - an ideal solution for inexpensive transportation of huge batches of products across the ocean, if speed is not important;
air transport - compensates for the slowness of delivery by sea liners and combines it with a spacious cargo bay, but in return requires a large amount of money. After all, airlines are considered the most expensive transport, albeit fast.
You do not know whether to order air or sea freight from the USA (Europe, Australia, South America, countries of Eurasia)? Consult with the managers of "Express Logistics". They will take into account all the requirements of the client and other subtleties (lot size, whether urgency is needed, etc.) when choosing the most suitable transport.
Try to use our services, we guarantee - delivery of imported goods will be held on the highest level!